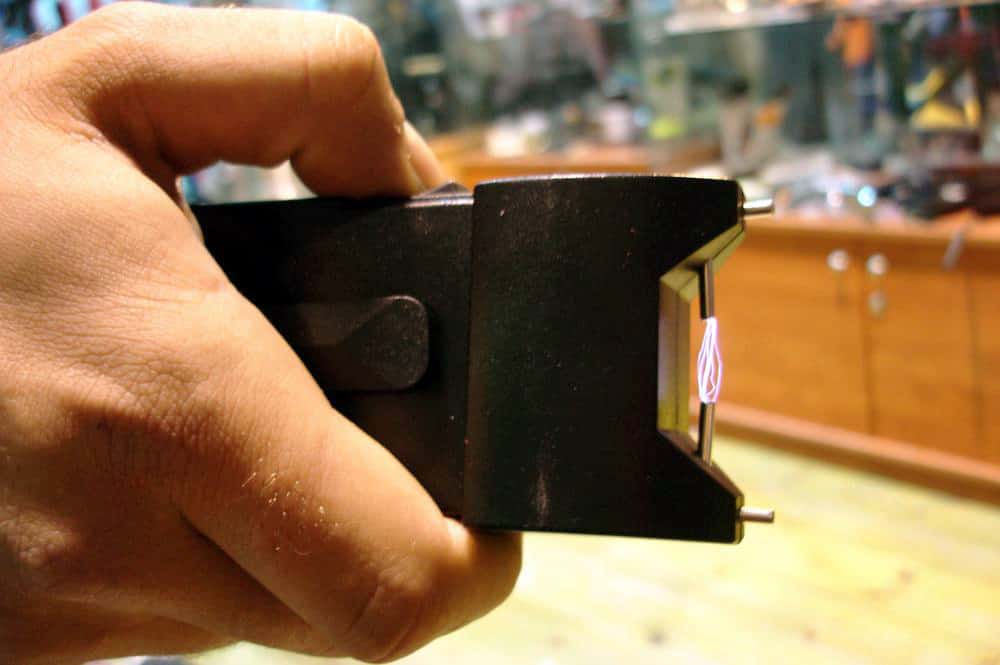 The Stunning Way to Survive
Imagine the scene . . .
Holed up in your cabin while the most gruesome of Romero's zombie hordes roam unchecked, dropping the occasional limb. Unfortunately you've failed your Prepper's qualification and have no available weapons; you do, however, have a microwave, a small screwdriver, a generator running and a hand carved model of a badger that you keep in your pocket.
Vaguely you recollect your old electronics teacher back at high school teaching the class how electricity currents flow, and you devise a cunning plan. Using the microwave and screwdriver, you fashion a two pronged metal poker. Powered by electricity from the socket in the wall, you have made a zombie zapper.
With rage on your face, and blood pumping through your veins, you fling open the door. Grasping your weapon in both hands, you run, you run fast towards the grinning masses, you run faster than you ever have, screaming, yelling in your fury, ready to fight . . . until the plug follows you out of the cabin.
And the hand carved badger? That's all that's left when the zombies stumble away, repleted.
In order to prevent that very likely scenario happening, a stun gun may be more use than an old microwave.
---
What to look for in a stun gun?
Whilst the non-lethal, close contact stun gun can never replace a firearm in a survivalist's arsenal, they do have their place, especially when the situation can be defused without force.
The best, most effective stun guns carry a voltage of between 9 – 10 million, and in order to take down an opponent, has to remain in physical contact for between 3 and 5 seconds. They will, however, stop the most determined foe in their tracks, causing muscles to contract extremely rapidly, and an inability to control their limbs, suffer confusion and be rendered ineffectual.
Size and ease of concealment are factors to think about. Small, pocket sized models are readily available, but if you prefer something a little meatier, larger baton-style stunners have the added advantage of being used as a striking weapon, too.
Another feature to consider is the length of the prongs. These are the things that actually deliver the shock, and, to be particularly effective, need to be sharp enough, and the right length, to penetrate clothing.
Certain models include other useful additions, such as rechargeable batteries, electric pads to prevent the assailant grabbing the gun from your hands, or built-in flashlights, enabling you to see who you plan to take down.
---
This is our pick of the stun guns currently on the market:
Overview
The Vipertek is a neatly designed pocket-sized stun gun. The build quality looks and feels excellent, and with a rechargeable battery, a bright LED flashlight and pointed prongs that will go through clothing, this is a useful weapon to have on your side. We like the snatch prevention plates – no one is going to risk taking this out of your hands!
The Good
Not only does this really pack a punch – even the largest of our team was rolling around in complete agony for a good while, but the crackling of the current and the fact it lights up the sky is enough to put any attacker off without even making contact. The snatch plates are a great idea, though, just in case. Quick to charge, the Vipertek battery pack kept it powered for weeks of testing. I think it's fair to say, we're all off to get one to keep in our BOB.
The Bad
The flashlight is controlled via a slider switch, but we prefer the feel of a button or rocker switch, but that is purely personal preference.
The Final Verdict
An excellent stun gun, packed with useful features and enough voltage to floor an army.
---