Most people think of slingshots as toys for kids – Bart Simpson terrorizing Springfield, but for the die-hard survivalist, a slingshot can not only provide food, but could save your life. Whilst even the toughest model won't take down a wolf or bear, they can disorientate the predator enough to allow you to make your escape.
But what properties do you want in a slingshot?
What to look for when choosing a slingshot
Gone are the stick and elastic band catapults – modern slingshots have adopted the most high tech materials for durability, power and accuracy, making them a force to be reckoned with.
The main things to consider are:
Power
Accuracy
Speed of loading
Ease of use
Accessibility to ammunition – eg can it fire small stones if necessary?
Lightweight
Replaceable working parts
Frame Material
The three main choices here are plastic, wood and metal, each coming with their own pros and cons. Plastic, in particular glass-filled nylon, tends to be the cheapest option, and offers a variety of grips, but can be hard to replace if it snaps. Woods works well for the traditionalist among us, and is usually modeled on the Y design. This can be easily replaced if necessary. Metal is lightweight and extremely durable, but you'll be paying bigger bucks for one. The handles are frequently wrapped to aid comfort, and you can always add more padding if required.
Firing Band
There are two main types of firing band – flat rubber and tubular rubber. With these, there is a compromise to be made. The flat rubber has a higher level of accuracy, firing at a greater speed and is easier to draw. This is a popular choice for hunting.
The tubular option is more durable, and offers a perceptible draw weight.
As firing bands are pretty inexpensive, it's worth trying out several and seeing what works for you.
Ammunition Pouch
This may seem like an afterthought, but it plays an important role. This is the seat where you place your ammo, ready to fire and as such, the material can be crucial to achieving an accurate shot. Leather is the best choice here as it molds to the ammo, and remains supple, ready for use.
We're putting the market-leading slingshots through their paces to see how they fare.
Top 5 Slingshots
Overview
This modern slingshot from Cooy looks like a formidable beast with perhaps the best slingshot design. With a solid steel body and a sextuplet of extra strong firing bands, the ergonomic design, complete with built-in wrist support, makes this a weapon not to be underestimated. The thoughtfully attached flashlight makes night hunting an easy option.
The Good
Wow! This is a tough act to follow. Just the appearance is enough to warn any intruder that you mean business. The speed and ease of loading, the sheer force of propulsion and the impressive accuracy, even at 50 feet in a storm, makes this a great slingshot for hunting anything. The box also contains extra firing bands, several different types of ammo and a great instruction booklet.
The Bad
With the power that this packs, we don't consider it safe for children to play with. This is definitely just for adults.
The Final Verdict
This is a well made, decently designed and very accurate slingshot. Built to last, you can rely on this to feed you for years.
---
Overview
Built with a solid and reliable steel frame, the B52 is a traditional looking slingshot. The flexible wrist support is well positioned, while the molded handle looks and feels durable. Featuring a surgical strength tubular rubber firing band, the ammo pouch is also rubber, making the B52 a hard wearing slingshot.
The Good
With such a simple design, any replacement parts that are needed are easy to fit. The handle is comfortable to hold and offers a good, firm grip, while the pouch provides rapid ammo release, allowing a sure, straight shot.
The Bad
It would be good if Daisy had included extra ammo, but it's such a great price point, it's no hardship to purchase them separately.
The Final Verdict
Daisy have designed an honest, simple to use slingshot at a budget friendly price. This is a good buy for your BOB.
28 new from $7.97
Free shipping
as of September 30, 2023 11:20 pm
---
Overview
The Classic II comes with a tempered steel frame, ergonomic high impact plastic handle and a strong tubular rubber band. This is an honest feeling weapon, trusty and dependable.
The Good
Able to be used left or right handed, this is a nicely lightweight slingshot. The handle has an excellent build quality and is comfortable and hard wearing. Loading, pulling back and firing are no hassle, even for a child. We managed to hit the bullseye, repeatedly, at more than 50 feet, demonstrating a good level of accuracy.
The Bad
Marksman could have made life even easier by including a box of ammo with the Classic II, and fitting replacement bands can be tricky until you get the hang of it.
The Final Verdict
Coming in at a great price, this is a plain, but very effective, slingshot. With no bells and whistles to worry about, any maintenance is simple.
12 new from $7.77
Free shipping
as of September 30, 2023 11:20 pm
---
Overview
It'll be interesting to see if the performance lives up to its stunningly cool appearance, but there's no getting away from the fact, this slingshot looks good. The stainless steel frame is encased by a handle of nicely shaped and varnished wood, and ultra strong flat firing bands are colored vibrant green.
Equipped with two stainless steel sights and two three-hole sights, this is great for pros and newbies alike.
The Good
We were struck by how comfortable the grip on this RCZXSUWE slingshot is, which allows the draw to feel smooth and secure. It shoots straight and true, is extremely powerful and comes with extra ammo and bands. So yes, the performance does live up to the looks!
The Bad
Although supremely stylish, it's not easy to go native in the brush with the glaring green firing band.
The Final Verdict
Designed for professionals and beginners, this is deceptively powerful. It really packs a punch, whilst looking super cool.
---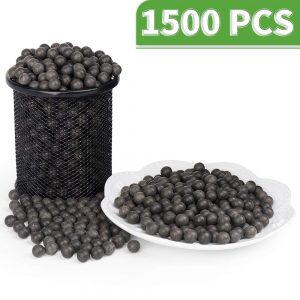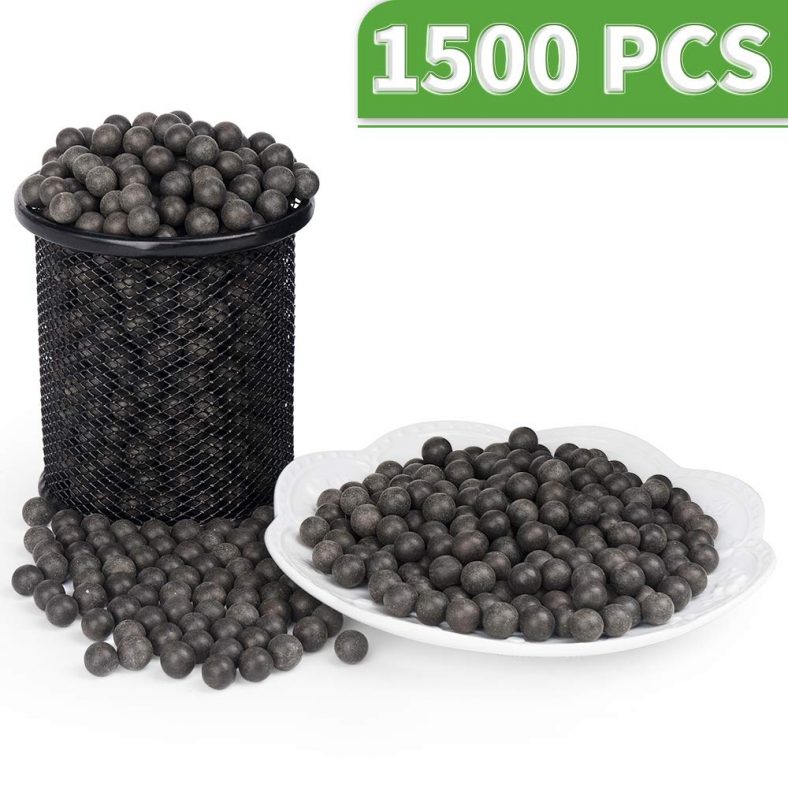 Overview
LuckIn are renowned for producing quality ammo, and this pack of clay shot balls are the perfect size for slingshots. Biodegradable, non toxic, and extremely hard, this 1500 piece pack is coated in a smooth ceramic clay to ensure no residue remains.
The Good
Hard as iron, these baked clay shots are environmentally friendly and dissolve in water, meaning any debris is easily dealt with. Medium weight, and perfectly spherical, they shoot fast and accurately, and can cause some pretty major damage.
The Bad
To be completely honest, we could find no faults with this ammo, other than an included pouch would be nice!
The Final Verdict
Great ammo, great price. Does the job perfectly.