As a prepper, you know how important it is to have food supplies to last for quite some time after SHTF situations. After buying all the necessary tools like a first aid kit, weapons, generators, flashlights, mountain bikes, you have to take care of the most crucial thing – dehydrating food. If you know what you're doing, the fruits that you dehydrate can last for up to five years, and dried vegetables can last up to ten years, so it is vital to know this skill. To make things easier, you can do this by using a food dehydrator, and to further simplify things, we have decided to introduce you with one of the best food dehydrators out there.
---
Overview
This electric food dehydrator has 9 trays and a drying space of 15 feet, giving you the chance to dehydrate a vast number of foods. The thermostat gives you the option of adjusting the temperature from 105◦F to 165◦F, meaning that the temperature can be high enough to dehydrate beef jerky and low enough to preserve the active enzymes in vegetables and fruits. To improve the air circulation, a 7-inch fan was added to the already excellent Excalibur 3926TB.
The Good
Due to its size, it can dehydrate large amounts of food at the same time, which means you can prepare yourself before SHTF, while looters try to deal with the ZA. This dehydrator is pretty big, 19 x 17 x 12.5 inches to be more exact but  only weighs 22 lbs. The addition of a flexible poly-screen tray prevents your food sticking.
The Bad
The only way this kick-butt Excalibur can be improved is if instructions and recipe books came with it.
The Final Verdict
Money spent on a food dehydrator is money well spent, and this is the best, in our honest opinion
5 used from $227.91
Free shipping
as of September 30, 2023 9:18 pm
---
Overview 
If you want to experiment in your own kitchen and create great snacks out of fruit puree to make fruit rolls or create your own spices by grinding dried chilis then you should invest in a good dehydrator. The COSORI Premium Food Dehydrator Machine comes with a mesh screen, a roll sheet, 6 trays made of stainless steel, a recipe leaflet, and a manual. It comes with all you will need for a fun food dehydrating experiment.
The Good 
Do not worry about having a noisy machine at home because this dehydrator is as quiet as the library! You can set it up before you sleep and you won't hear a thing, or hear an annoying beeping sound. Another great feature is its digital control panel that you can adjust up to 48 hours and 165ºF in temperature.
The Bad
There's nothing we can complain about this amazing appliance! The only thing you have to consider is to check if you have enough space for this spacious dehydrator. Its dimensions are 13.40 x 17.80 x 12.40 inches, so check first before you buy.
9.2Expert Score
The Final Verdict
A Quiet dehydrator that will not wake you up
18 used from $110.40
Free shipping
as of September 30, 2023 9:18 pm
---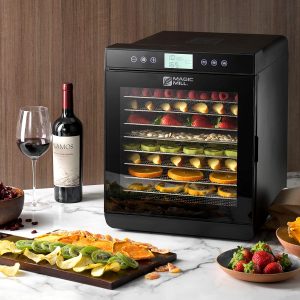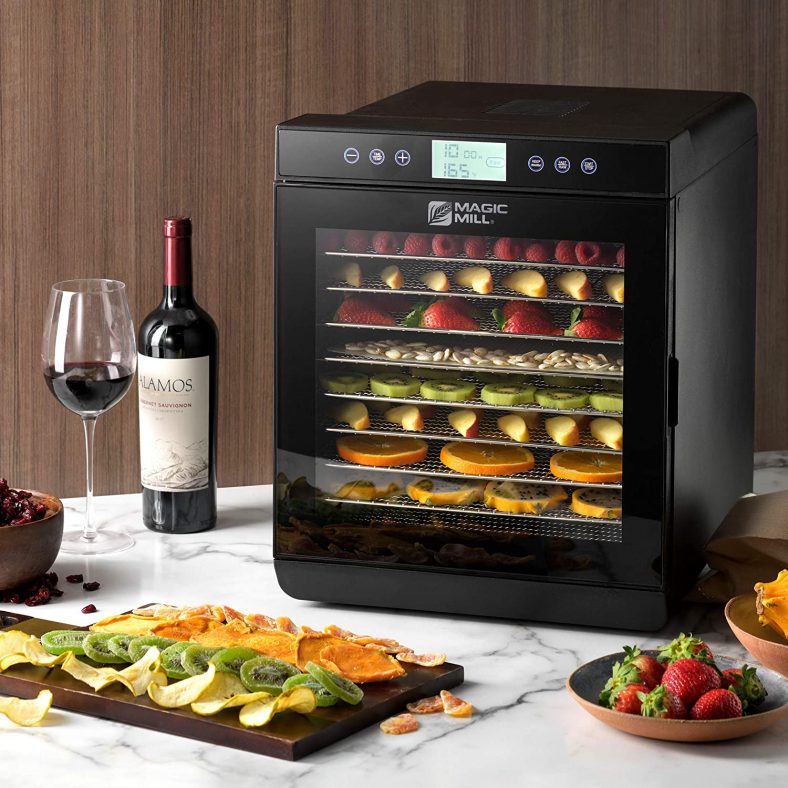 Overview 
If you are taking this dehydrating process to a whole new level then get a 7 level dehydrator like the Magic Mill Food Dehydrator Machine. It comes with removable stainless steel trays, 2 fine mesh sheets, 1 oven mitts, and 2 fruit leather trays. All parts are dishwasher safe for easy cleanup. It has a digital thermostat for convenient temperature and timer adjustment.
The Good 
There is no need to rotate the trays in between dehydrating times because the machine has a rear mount fan that evenly distributes the heat from the front towards the back of the tray. You are guaranteed an evenly dried product. It also has an automatic shut off timer that will ensure a safe shutdown after your countdown timer is done.
The Bad
You will love everything about this machine because it packs all the great features that you need for a convenient time dehydrating. The only thing is it is huge! So make sure you have ample space in your storage and countertop. Also, make sure you need 7 layers of the tray.
8.9Expert Score
The Final Verdict
It packs all the great features that you need for a convenient time dehydrating.
2 new from $219.99
2 used from $143.18
Free shipping
as of September 30, 2023 9:18 pm