Having the right pair of boots is an absolute necessity. After all, no foot, no survive! This is why you have to choose ones that will provide comfort, safety and reliability. Together with a large and durable backpack, high-quality boots are probably one of the most important items you need to increase your chances of survival.
If you're going to the trouble to seek out good, comfortable walking boots, it's worth checking out some high quality socks. Merino wool is well known for being durable, warm, and lightweight, and a pair of merino wool socks would be perfect for a day walking the trail.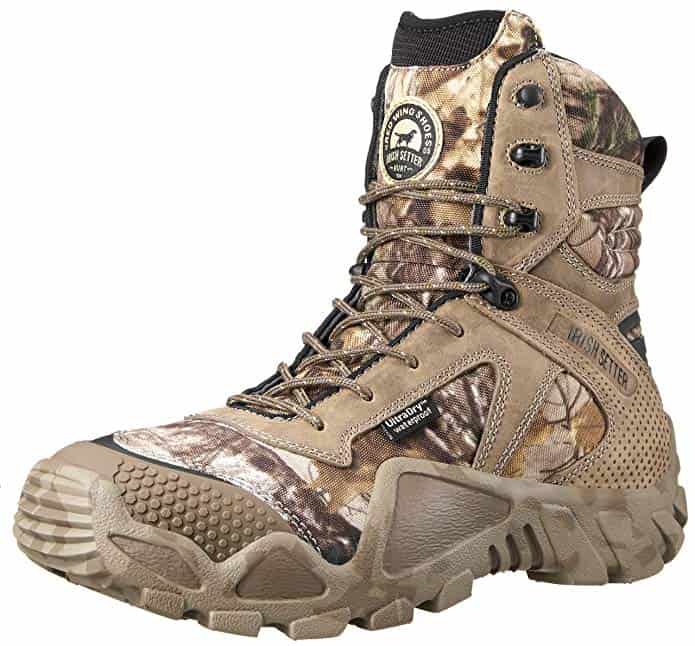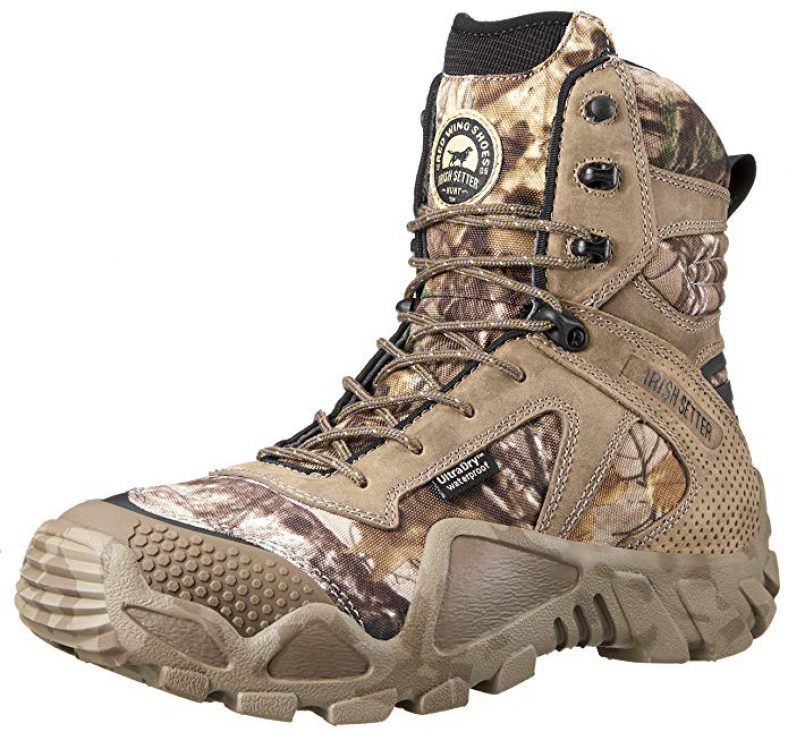 Overview
The first and the most crucial part is that they are 100% waterproof, so you don't have to worry about your feet in the snow, rain, or even mud. This is made possible by the UltraDry waterproofing system. They have a rubber sole and are incredibly comfortable to wear.
The Good
Innovative new technology reduces weight significantly and adds endurance and comfort at the same time. Being ankle-high protects your feet from the snow and the water, so you don't have to worry about where you step. They're also perfect even for climbing steep hills, or traversing the rockiest terrain.
The Bad
A small nuisance can be the fact that they take a little bit of time to break-in, but most good boots do.
The Final Verdict
Excellent comfort, waterproofing, and durability make these the ultimate prepper's boots.
---
Overview
The Bates Men's 5″ Ultralite Tactical Sport Military Boot is a waterproof boot made of 30% Nylon and 70% Leather. It is perfect for rugged work or outdoor trips as it can withstand bad weather and terrain. It comes with a slip-resistant rubber sole and removable inside cushion. This boot is the epitome of convenience as it is easy to wear with a size zipper lock instead of lace-on.
The Good
Although it looks very sturdy and durable it is also comfortable providing enough cushion for the soles as well as a breathable lining so your feet stays fresh and dry.
The Bad
After almost a year of continuous use, you will eventually see some wearing out, but not enough to break the boot.
The Final Verdict
A great boot that is easy and convenient to wear.
---
Overview
The FREE SOLDIER Men's Work Boots 6 inch Lightweight Breathable Military Tactical Desert Boots is suitable for Hiking and other rugged outdoor activities. It is made of suede leather that is resistant to abrasion and water. It is durable yet comfortable and breathable. Do not worry about wearing out your feet because it is lightweight only weighing 2 pounds each boot. It comes in 2 classic colors; Sand and black.
The Good
If you want to feel more secure then choose a boot like this with a lace-up closure so you can adjust the tightness of the boot around your feet. Also, the rubber outsole is non-slip and has extra cushioning to absorb shock preventing foot strain and other injuries.
The Bad
It is good for daily wear and some rugged outdoor activities but is not advised to be used in hard training as it might wear out more easily.
The Final Verdict
A lace-up boot that fits snuggly and comfortably on the feet.
---
Overview
The Under Armour Men's Stellar Tac Side Zip Sneaker comes with both zipper and lace so you can fit the boot perfectly on your feet. It is made of fabric and leather sole that repels water and allows feet to breathe. It is softer than most boots so we do not recommend this for very strenuous activities such as hiking.
The Good
Since the material used for the boot is not very hard, it is easy to break in as fast as 1 day. It is also considerably softer and more comfortable than other boots.
The Bad
Since this is not made of very hard materials you can assume that it cannot deal with rugged terrain and hard use. Enjoy these boots on a regular terrain and it could last you a while.
The Final Verdict
Comfortable boots for everyday wear.
---
Overview
The Reebok Work Rapid Response RB 8″ Composite Toe Men's Boot is a sturdy boot that has no metal toe. It comes with an extra-wide toe cap and electrical hazard protection that will help you get through the rugged work load safely. The boot has a lace-up design as well as a side zipper for a snug fit. Other parts contain nylon mesh lining and padded tongue and collar to create a comfortable environment for your feet.
The Good
It has a dual-density mountain trail rubber sole that can resist abrasions and slippery terrain against oil, heat, chemical, and water. It is great for outdoor activities and a heavy workload.
The Bad
It may take some time to break in and the zipper on side maybe annoying for some. Wear a thick sock to prevent scratching your foot with the inside part of the zipper.
The Final Verdict
Great for rugged work and slippery terrain.
10 new from $134.95
Free shipping
as of October 1, 2023 6:16 am
---