Nowadays we have to be thankful for the fact that flashlights have improved vastly in quality and are more long-lasting when compared to the ones from decades ago. One of the first things a survivalist must buy, along with a good compass and reliable binoculars. We have carefully selected three of the best flashlights out there that will serve you best. Several factors were considered when we decided to choose the best ones — price, functionality, design, brightness, and how long-lasting they are.
Overview
Let's start with its brightness, it can focus on a single object from more than 1000 feet, or it can light up a room in its entirety. It requires 3 AAA batteries or just one rechargeable battery. We understand that sometimes it is also necessary to be used when it's raining, so GearLight has created the S1000 model to be water resistant. You won't have to worry even if it falls in the water, pick it up and you will see that it still works. Since it is made from military-grade aluminum, it can withstand tremendous amounts of pressure, like falling from 10 feet or even running it over with a car.
The Good
The five modes are perfect (SOS / Strobe / Low / Medium / High) and the beam zoom, which can be adjusted from narrow-to-wide make it the ideal flashlight for every occasion. From regular activities, like dog walking to the worst of catastrophes. It is also very lightweight, weighing only 5.12 oz. while also it's small to fit it in your pocket easily.
The Bad
The only small problem that the GearLight S1000 can have, is the slightly lower light intensity.  However, for this price, you will get a reliable flashlight that will get the job done, and you won't have to worry about breaking easily.
The Final Verdict
The S1000 model has, functionality, a great price, sturdiness and they are quite long-lasting. It is excellent for everyday use and also for many outdoor activities.
1 used from $20.04
Free shipping
as of December 1, 2023 2:42 am
---
Overview
The J5 V1-Pro is the best budget flashlight. It has optimal performances and can focus up an object from more than 600 feet away, and when compared to an old incandescent light, it is more than ten times brighter. You can use it for multiple hours without recharging it, and it requires only 2 AA batteries or a single 14500 battery that is rechargeable. Its size makes it incredibly practical, smaller than the previous two flashlights (3.6 x 1.02 x 1.02 in). With three modes (High / Low / Strobe), and it also 300 Lumen ultra bright.
The Good
The strength of this product is immense; even if you drop it from 9 feet, it will still survive and work properly. Some people have also tested it to see how it fares if you put it in a freezer, and to their surprise, it could still work without a problem. It's also a water-resistant product that can be used even when it's raining, and if you accidentally drop it in the water and pick it up, it will work again.
The Bad
The zoom can be a little tricky to perfect, but this isn't an issue once you're used to it.
The Final Verdict
The J5 V1-Pro is the perfect match for any prepper's needs. It has everything that you want, a great price, sturdiness, small enough to carry it with you everywhere, and most importantly, it gets the job done perfectly.
---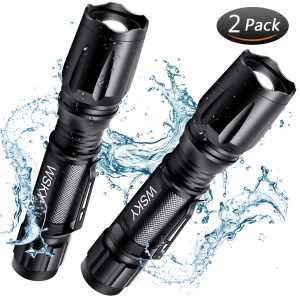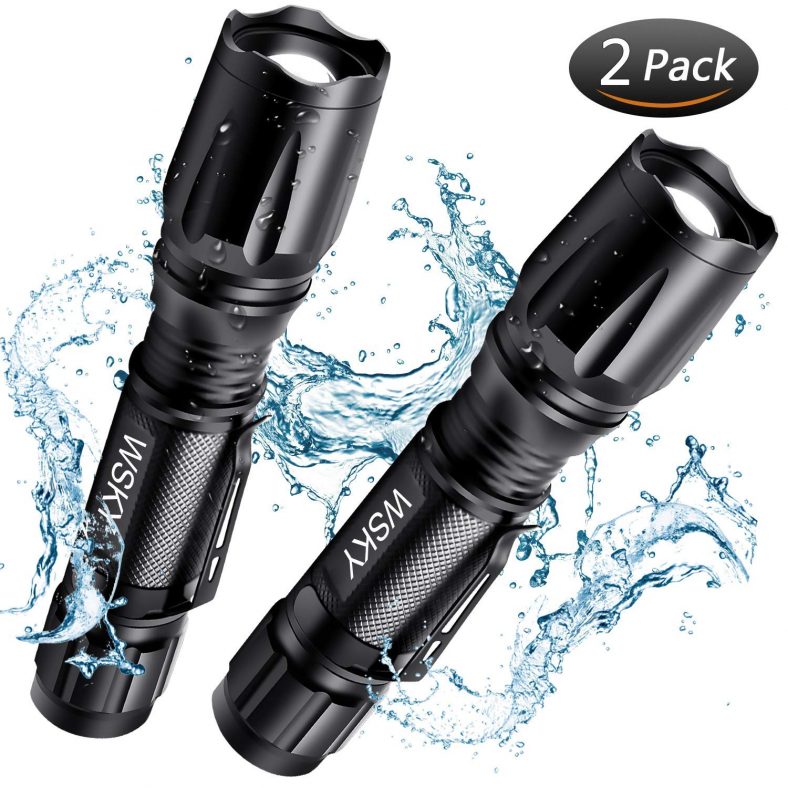 Overview
This is no ordinary flashlight since it will offer an increase in brightness that is up to 70%. The focus can reach 1200 feet. The T6S advanced wick chip powers this brilliant flashlight, and when it's compared to old incandescent lights, it can light up a room 20 times brighter. This model also has five modes (High / Medium / Low / Strobe / SOS) which can be an excellent addition for every household or a great tool for you to carry when you go camping, or hiking. It requires 3 AAA batteries or just a single 18650 battery.
The Good
The new design makes it even better than the previous one, and the added belt clip makes it much easier to carry it around. We must not also forget the anti-slip, which will help you have a better grip. The fact that it's so tiny (5.1 x 1.26 x 1.1 in) means that you can carry with you at all times in your pocket. The Wsky flashlight is water and shock resistant, meaning that it can withstand extreme weather conditions.
The Bad
When focusing it to great distances the light doesn't travel quite as far as some of the pricier models. However, it is brilliant for shorter distances, you can use it around the house, and it will last for a very long time.
The Final Verdict
A great flashlight that it is worth buying. It comes at a very affordable price, it is shock and water resistant, and its reliability is undoubted, it's a must-buy!