Concentrating on the more exciting and exotic parts of being a prepper like hunting knives, tents, mountain bikes, binoculars, etc., is undoubtedly more fun than things that we consider ordinary. However, the importance of having the right kind of clothes can never be underestimated. It would be best if you had clothes, and in this specific case, pants, that are flexible, comfortable, and durable at the same time.
You cannot underestimate the importance of warm, dry, hardwearing clothes when survival is uppermost. They can keep your core temperature high, ensuring you remain fully functioning, meaning that you don't have to expend energy keeping warm. A high quality waterproof coat, paired with pants and a good pair of boots, and you'll be just fine.
The importance of them being durable can't be stressed enough because when SHTF, we know that it will not be a fashion runway, and pants have to be durable enough to withstand almost everything. The same can be said about flexibility and comfort since you want to feel comfortable while wearing them when you're running or hunting.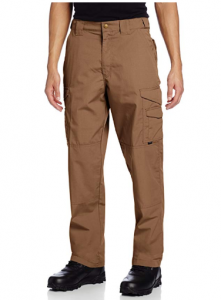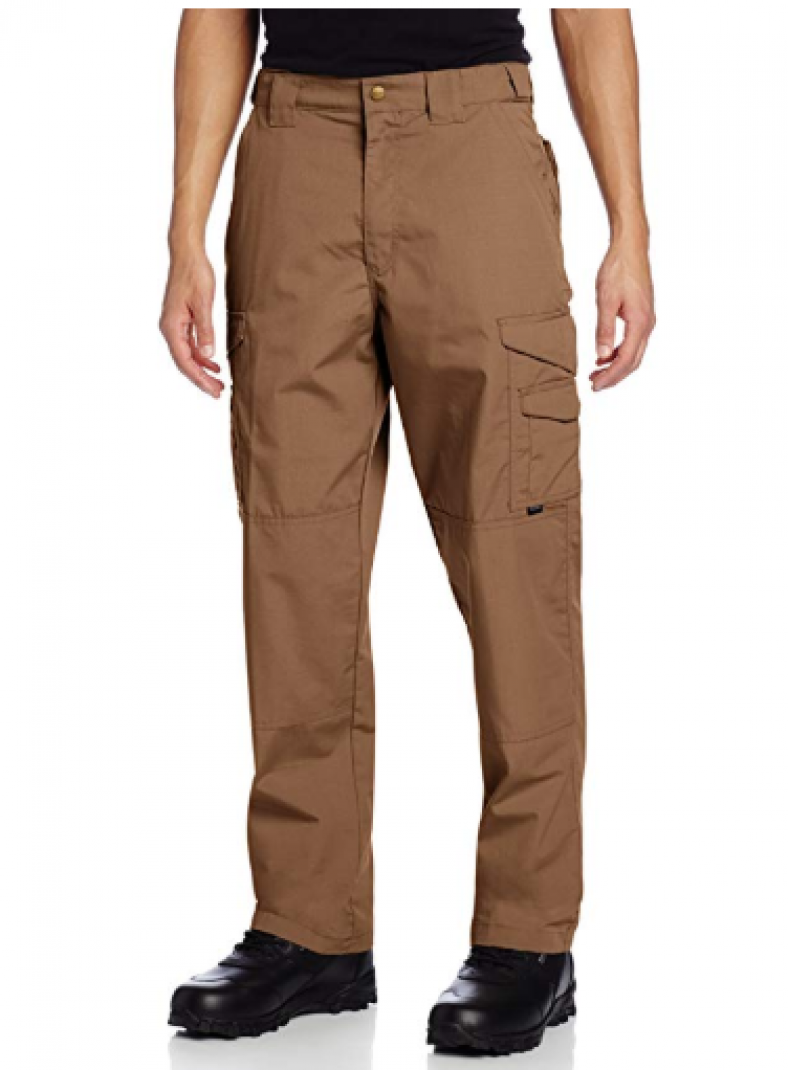 Overview
Made of Teflon coated polyester and cotton, these pants are highly durable. They're made of 35% cotton and 65% polyester, and they are designed specifically for tactical use. With a zipper closure and expandable back pockets that have hook and loop closures, they are also wrinkle-resistant and quick-drying, which means that even when you're caught in the rain, they will dry up pretty quickly.
The Good
The amount of pocket on these pants make it great since if you go out hunting or you need to leave immediately, you can fit plenty of things in your pockets. The two thigh cargo pockets can fit many things, and when you add to that the two accessory/knife pockets, you have plenty of room for pretty much anything.
The Bad
These pants can be little loose around the thigh area. Nonetheless, as a prepper, you should know that you need your pants to be comfortable much more than you need them to look good on you. If anything, this is an advantage.
The Final Verdict
Perfect for hunting, and many other outdoor activities, if you're thinking of becoming a serious prepper, you should have at least one pair of these pants.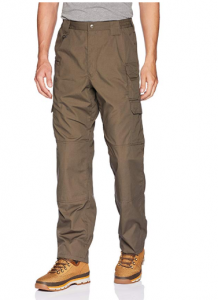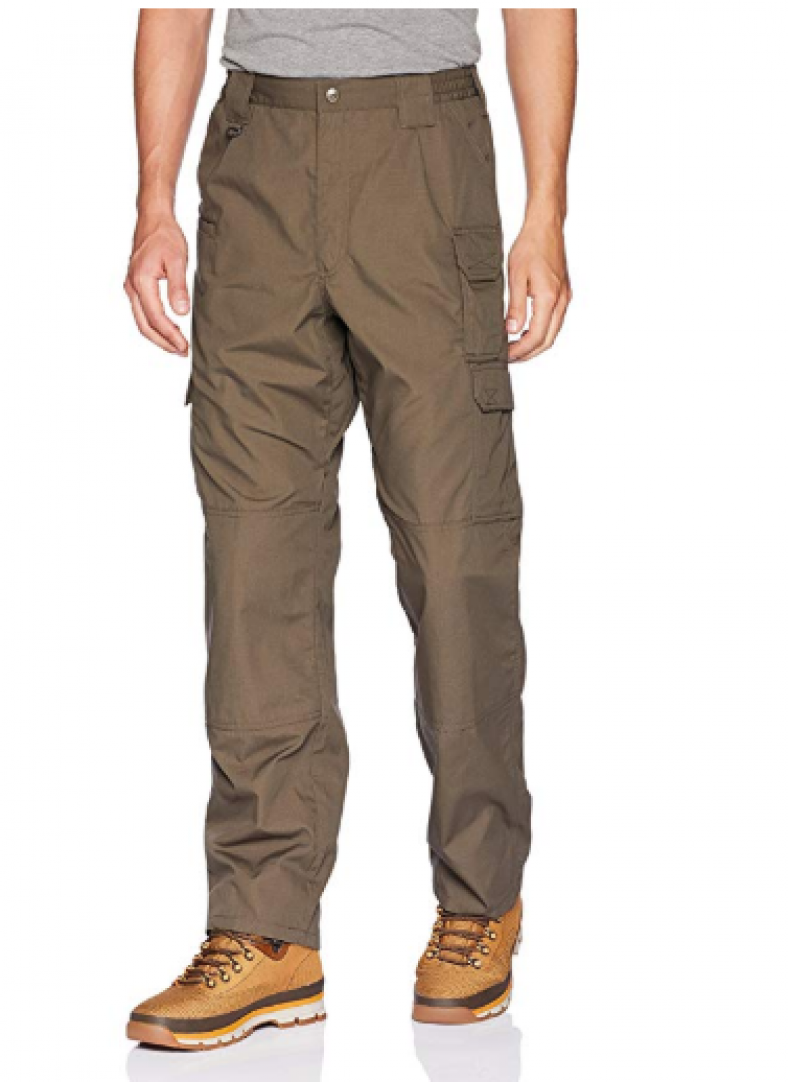 Overview
Made of 35% cotton ripstop fabric and 65% polyester, these pants are very lightweight and highly flexible. The ripstop fabric is coated with Teflon wear-resistant finish to add extra durability to them. The comfort is just incredible, and with the hip-mounted D-ring, these pants will endure everything that you throw at them.
The Good
They have plenty of pockets, and they are all located at the right spots to give you easy access to the gear that you need. If you need to go hunting, the knife pocket that is located on the right side at the front gives you quick access to your knife. The cargo pockets are pretty big, and over the left cargo pocket, there is the smartphone pocket for extra room.
The Bad
They feel a little baggy around the thigh area. However, that is not a real issue since we're not looking for style, but comfort, durability, flexibility, and pockets, which they all have.
The Final Verdict
5.11 is known for producing incredible tactical pants, and these pants continue the legacy. The comfort they provide will allow you to do anything, while the durability is incredible, they will last for years, even if you put them through hell.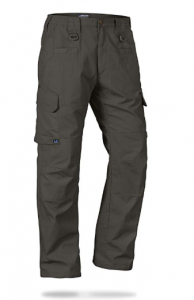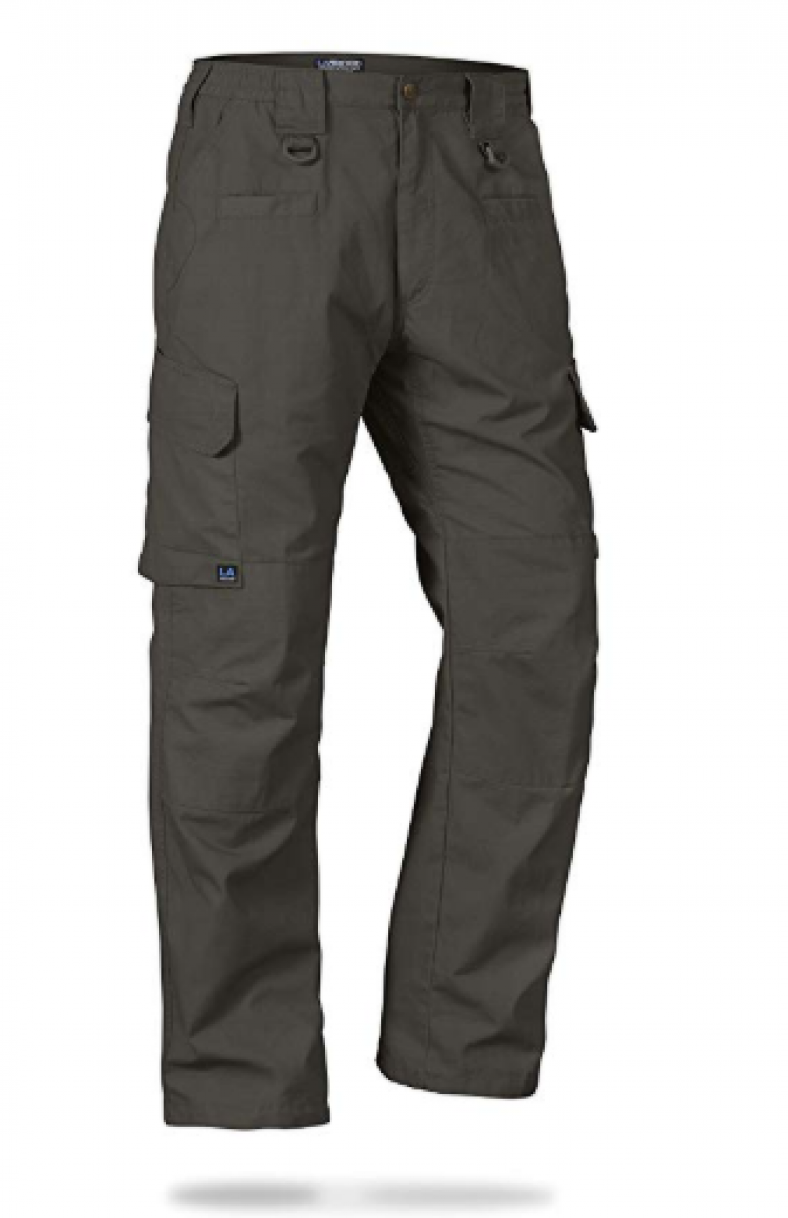 Overview
With 35% Cotton and 65% Polyester, these pants are super comfortable, and you can wear them when you work outside, and they're perfect for any outdoor activity. The gusseted crotch and the articulating knees allow for better movement when you're trying to hunt your prey, and they're very flexible, so you don't have to worry if they will tear anytime soon.
The Good
The elastic waistband is excellent since it allows you to wear them even if you gain some extra pounds. The sheer amount of pockets make them perfect if you need extra gear to carry around. They are also fluid-resistant as well as fade-resistant, meaning that even if you wash them many times, the color will not fade and they will look the same.
The Bad
A minor nuisance can be trying to order the right size since they aren't a standard size. Therefore, when you order them, it's better to be safe than sorry, and order them a size bigger so that they will be a little bit more comfortable when you're wearing them. Other than that, there were no issues.
The Final Verdict
The durability and flexibility of these pants is terrific, while the number of pockets and the way they are designed will suit any prepper.