When looking to buy a new backpack, there are plenty of things that you need to take into consideration. While fabric and space are critical, other things like the frame system, its weight, the number of pockets are also important. A newbie hiker needs to recognize the difference between an average backpack and one that could save your life in an emergency. Being fully prepared in a SHTF scenario means you have everything to hand, including headlamp, first aid kit, flashlight and multitool. Your backpack should contain these and more.
Overview
This backpack is not average in any sense of the word, it could, potentially, be a life saver, and with great reason. It has a capacity of 4,000 cubic inches (65 L), and it only weighs 5 pounds. With a shell of 600D Oxford canvas and 600D Ripstop, it includes a hydration bladder with a capacity of almost 0.79 gallons. The internal frame is designed for comfort and the shoulders, waist, chest, and torso straps can all be easily adjusted.
The Good
The impressive and well considered features make this the ultimate backpack. Multiple pockets, a sleeping bag compartment, and multi-directional compression straps all speak volumes about the sheer quality. The lumbar area is also padded to improve the airflow system, thus reducing heat.
The Bad
The  zippers were a little sticky to start with, but they soon loosened up.
The Final Verdict
This backpack is the ultimate in survival, allowing you a fighting chance. With space enough, and then some, for crucial supplies, this should be high on your list of essentials.
---
Overview 
The Stealth Backpack is your go-to discreet bag for transport and storage of guns and other accessories. It is a spacious bag that has plenty of compartments for your gear. You can adjust its tie-down system if you want more convenient access, or if you want to tighten up the security of your belongings. Your tactical tools will fit snug right into the heart of this bag. It has a lightweight nylon exterior and interior so it will not add up to the weight of your baggage. Your gear is safe with its internal paddings on both sides.
The Good 
It is a very discreet and spacious bag. You can place your bulky tactical gears and still look inconspicuous. It also has mesh compartments inside so you can easily browse through your belongings conveniently. You will also get a front compartment where you can place smaller items like i.d and wallet that you will need to use frequently.
The Bad
Although this pack is already spacious it can't fit larger than a 16″ gear and those with optics will make the bag too tight. There is also no side handle so you cannot hold it sideways.
9.2Expert Score
The Final Verdict
It packs all the necessary stuff for a survival trip
---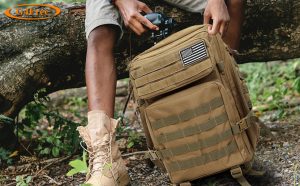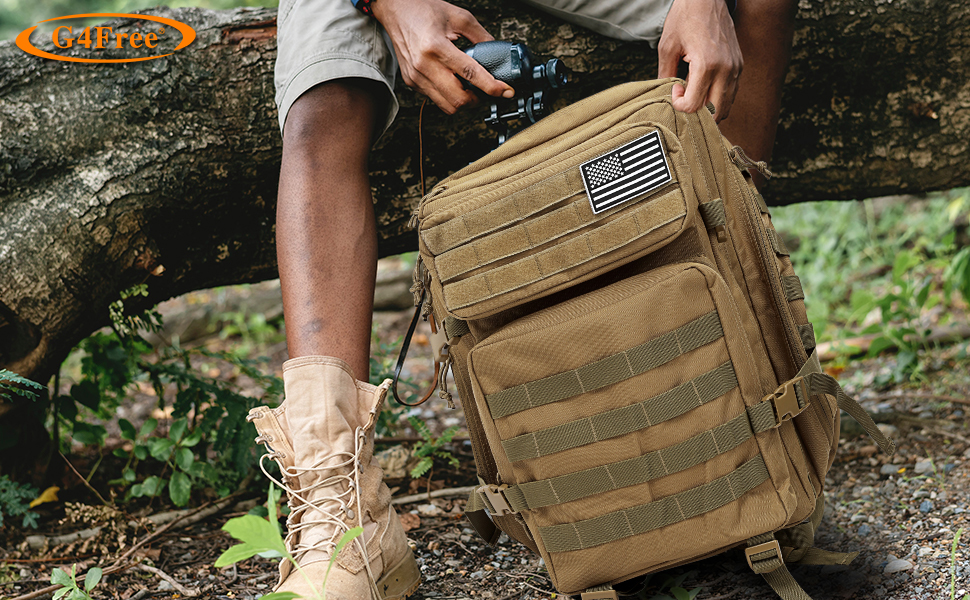 Overview 
The G4Free Tactical Survival Backpack is a versatile backpack not just for your outdoor survival trip, but also for everyday use. It has a spacious capacity of 40 liters made of water-resistant polyester fabric. It also has a molle webbing throughout the bag so you can attach additional pouches. The straps come with two D-rings so you can hang or attach things to your bag, either as an additional pouch or for weighing things down like tents using your bag.
The Good 
If you are out for an outdoor survival trip you will surely get thirsty. The bag can accommodate a hydration bladder pack so you can bring with you some drinks. The bag also has a thick mesh padding at the shoulder straps and backside so you are more comfortable wearing it.
The Bad
Although it can accommodate a hydration bladder pack, it does not come with one. If you do not have one yet, you can purchase it separately so you can maximize this useful compartment in your bag.
9.1Expert Score
The Final Verdict
Stay hydrated outdoors with this bag