It's an often mentioned fact that if you can survive the first 72 hours after any disaster, your chances of failing are greatly reduced, however, there's no reason whatsoever why you should exist in discomfort if the SHTF. Things could well get worse before they get better so let's start out from a positive angle – comfort and the ability to catch plenty of zzzs.
If you aren't used to sleeping under the stars, things can be a little distracting. Noises in the night can alarm the unwary, and the sun rises early, while you may not want to. Whilst we wouldn't recommend blocking out any sounds, using an effective sleep mask can really help you achieve some meaningful rest.
If you, like many of us, are constructing a base that's more than just a basic BOL, it pays to have some simple, homely items stashed away, especially if you have a family to consider. Aside from caches of food, first aid, weapons and so on, it's important to be alert and ready for anything, which means getting as much sleep as possible. This is what justifies getting the best air mattress, along with a high-quality tent.
Air mattresses, when compressed, take up no room, and can be prepared in an instant, making them a very useful addition to any BOL. Trying to cope with any unexpected situation if you're tired, or are surrounded by people who are tired, is ridiculously impossible, and can potentially lead to danger.
The prepper trying to sleep on a hard surface is the one who will lose out in the long term stakes, and as there is nothing to say that we have to be uncomfortable, we're testing the BOL suitability of these best selling mattresses. But what should you consider first?
Comfort
Being able to pick your level of firmness is a major advantage of these air mattresses, and with most having air chambers for added support, you can choose how full you want the mattress to be . A 30 chamber air mattress is a great option, providing a good variety of sleeping versatility.
Power
Electric power obviously cannot be relied upon, so filling the mattress should be as simple as possible. Having the inflation options of electric, battery or manual pump allows for any eventuality.
Versatility
For all preppers, lateral thinking is crucial to survival, and an air mattress is never just for sleeping on. An inflated mattress can become a boat, or if it ceases to be airtight, once stuffed with grasses, mosses and straw, it retains its mattressy properties.
Rundown
This heavy duty, well made air mattress has an internal pump that allows push button inflation, taking less than 90 seconds to achieve fullness. Endorsed by the International Chiropractors Association, it's designed to provide a comfortable, spine aligned sleeping position. Tough enough to withstand all but the worst punctures, it comes with plenty of repair patches and is fully waterproof.
The Good
Large enough to provide space for three or four people, it is a great addition to any BOL. The pump uses electricity, but in the event of an outage, it can be manually pumped very quickly. Fully flocked all over, it will retain body warmth in the event of a cold night. During our rigorous testing, the King Coil provided a comfortable night's sleep all round
The Bad
Due to the air pockets there is a slight motion transference which takes a little getting used to.
The Final Verdict
If you're looking for an air mattress that will enhance your BOL, keep the whole family comfortable and come in at a decent price, the King Coil is definitely worth considering.
8 used from $99.59
Free shipping
as of September 30, 2023 9:18 pm
---
Rundown
With their Comfort Coil technology, SoundAsleep have designed a very sturdy, comfortable air mattress. The internal air pump inflates and deflates rapidly, meaning it takes no time to go from tiredness to asleep, and the 21 air coils ensure that you'll stay sleeping. Environmentally friendly, multi-layered PVC keeps the mattress waterproof and puncture free.
The Good
The Sure Grip base means no matter how fidgety the occupants get, the mattress stays put, making it great as a family bed. One of our testers piled his three toddlers (with more fidgets than a bag of weasels), his wife and himself on the bed, and everyone apparently woke feeling refreshed and clear headed. With the included packing bag, this is a well thought out mattress.
The Bad
The internal pump is a little loud when running, however, the mattress is so quick to inflate that it isn't an issue.
The Final Verdict
With plenty of decent features, this self-inflating air mattress is hard wearing, incredibly comfortable and easy to store.
---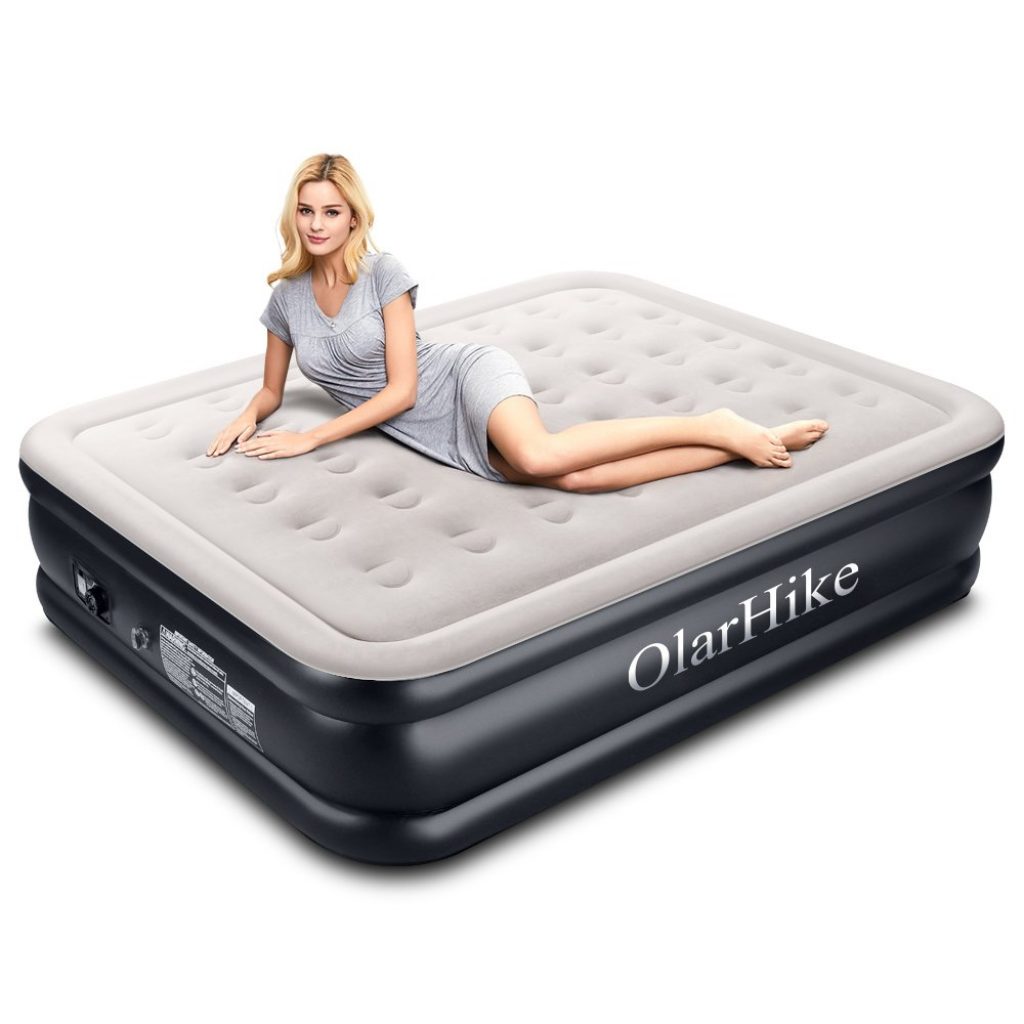 Rundown
Designed with an internal pump, this can be inflated or deflated in an instant, and the upgraded welding seams ensure that there are no air leaks. Incredibly supportive thanks to the coil air beam construction, this provides an impressively stable bed, with minimum motion transference, and enough room for everyone.
The Good
We found this mattress very easy to inflate without resorting to the internal pump, and no air was lost, despite no repeat pumping for over two weeks. Puncture and water proof, the soft, durable cover makes this mattress feel luxuriously cosy. Included are several patches, a tough storage bag and a nozzle that allows manual inflation.
The Bad
Whilst this is a great size, it may be a little large for your average sized BOL – do check the measurements.
The Final Verdict
With the ability to provide a great night's sleep for everyone, this air mattress is well worth a second look. Tough, easy to inflate and with a budget friendly price - what's not to love?
5 used from $53.22
Free shipping
as of October 1, 2023 6:16 am