Multi-tools are versatile hand tools that have the capacity of combining several single tools into one unit. Most of us have seen a Swiss Army knife before, and that has been the staple product, that introduced the world to multi-tools.
How to Use a Multi Tool
The idea behind multi-tools dates as back as the Roman times, and throughout the centuries has been further perfected. They provide a myriad of functions, and the best part is that you can usually fit them in your pocket, or your backpack. If you are an outdoor person, that loves camping, hiking, fishing, or any other related activities, having a multi-tool is a necessity.
Overview
The first thing that we noticed about the Gerber multitool is the sturdiness that it has, and if you add to it the fact that it is made of stainless steel, you know that it will last you for decades if you take care of it. You can easily put it in your pocket when it's closed, it's only 2.75 inches in length, and the overall length is 4.25 inches. Let's also not forget to mention that it weighs only 1.6 ounces.
The Good
The sheer amount of services that it can provide made us fall in love with it. There are a total of ten tools: scissors, a wire cutter, spring-loaded pliers with a needle nose, a fine edge blade, medium flat driver, a package opener, a bottle opener, a crosshead driver, file, and tweezers. You can use this multitool around the house, and it will be a lot easier than carrying a box of tools with you.
The Bad
Scissors can be a little bit sharper, but the blades more than make up for this.
The Final Verdict
The Gerber multitool is cheap, it's efficient, and it's small enough for you to carry everywhere. Ideal.
---
Overview
When we first opened it up, it looked like a gadget that Batman would use, and after testing it out, we were sure that Batman would use it. While the number of services that it can provide, is a bit lower than the other two items on this list, the ProMaster is failproof. We have tested everything from the pliers to the knife saw blade, and they worked to perfection.
The Good
We loved the knife, it was very sharp and also the screwdriver that had the 9-in-1 set included. The fact that it is made out of stainless steel is just a welcomed bonus. Just like the other two on this list, it's small enough that you can carry it everywhere because it weighs only 12 ounces.
The Bad
The pliers can be a little bit more sturdy, however the all-around performance is excellent, and if you buy it, you will definitely not regret it.
The Final Verdict
The perfect tool to keep it in your house for everyday use. It is also very affordable, and many of our colleagues have it, and are more than happy with it. An easy recommend
2 new from $16.95
Free shipping
as of November 30, 2023 11:24 am
---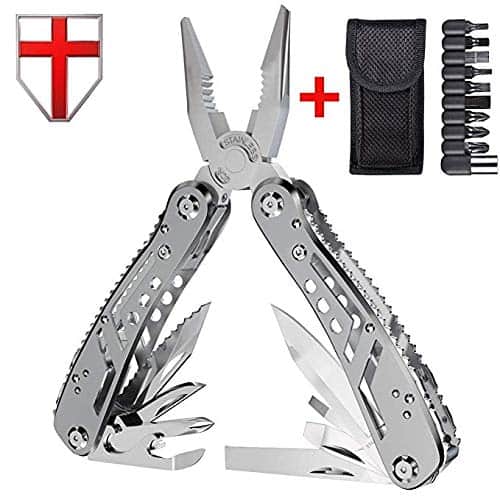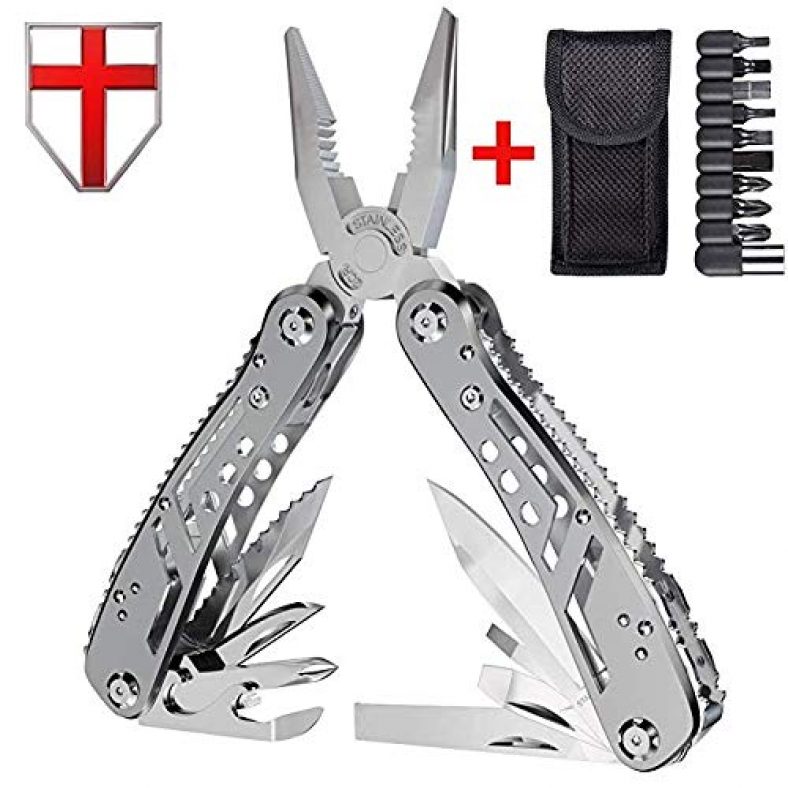 Overview
The Grand Way 2238 can be considered the final boss of the multi-tools, especially the cheaper ones. It has an incredible 24 features, and you can carry it everywhere. The stainless steel guarantees longevity, and it weighs 12.8 ounces, and add to it the 11 attachable bits, meaning that you can conquer any task ahead of you.
The Good
The design is very sleek, and it looks like every tool was put in the right place so that you don't have to worry about the angle of which you can use that specific tool. When we first tested the Grand Way 2238, we noticed that you can do any task without hurting your hands, and that is all thanks to the design. It's clear that the designing team has put a lot of effort to make it compact and efficient at the same time.
The Bad
The only thing that needs to be added to this brilliant multi-tool is a safety lock. That is not to say that it makes a world of difference, but the addition of a safety lock would make things a little bit easier for the user. However, this is just a minor headache that doesn't cause any trouble to anyone using it.
The Final Verdict
We recommend the Gerber multi-tool to people who love hiking, camping, or even for military purposes. The number of services that it offers will make it worth your while, and we can't forget that it costs next to nothing. In dire situations, it could be the difference between life and death.